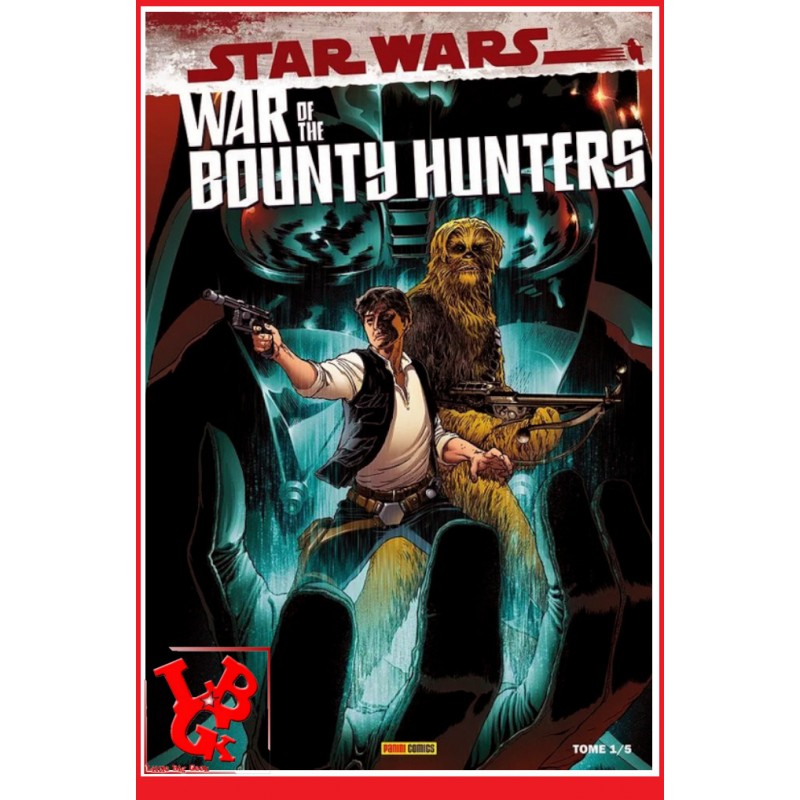  
STAR WARS 100% War of the Bounty Hunters 1 (Decembre 2021) Ed. Collector par Panini Comics
Edition collector cartonnée et limitée
Dessinateur Couverture  : Aaron Kuder
EAN13/ISBN : 9791039103442
Éditeur : Panini Comics
Collection : 100% Star Wars
Date de sortie : Décembre 2021
Nombre de pages : 160
Genre : Aventure, Science-Fiction
Album Comics en couleur, Couverture Cartonnée
Format :  largeur 178, hauteur 267, épaisseur 14

Dessins : Steve Mc Niven , Ramon Rosanas , Luke Ross , Guiu Vilanova , Paolo Villanelli
Scénarios : Greg Pak , Charles Soule , Ethan Sacks
Couleurs : Laura Martin , Rachelle Rosenberg , Dean White , Arif Prianto , Neeraj Menon , Giada Marchisio
  Star Wars 100% : War of the Bounty Hunters 1/5  
Edition collector cartonnée et limitée
Résumé du tome : À la fin de l'Empire contre-attaque, Boba Fett avait figé Han Solo dans la carbonite, afin de le livrer à Jabba The Hutt.
Mais voilà que quelqu'un a volé le corps statufié du héros !

C'est le début d'une course-poursuite entre les rebelles, Boba, le Docteur Aphra et tous les chasseurs de primes de la galaxie.

Découvrez la saga évènement qui implique tous les titres de l'univers Star Wars, de Doctor Aphra à Darth Vader en passant par Bounty Hunters et, bien sûr, Star Wars. Un crossover gigantesque que nous présentons avec la formule qui a fait le succès des événements Marvel (EMPYRE, KING IN BLACK) et des séries X-Men (DAWN OF X, X OF SWORDS), avec le choix entre une couverture souple et cartonnée. Cette saga (sans doute la plus ambitieuse depuis le lancement de la gamme Star Wars) remplacera donc le fascicule STAR WARS pendant toute la durée de l'événement.
Informations complémentaires :
Contient les épisodes US inédits :
- War of The Bounty Hunters – Alpha
- Star Wars (2020) #13
- Bounty Hunters (2020) #12-13
- Darth Vader (2020) #12
- Doctor Aphra (2020) #10
- War of the Bounty Hunters #1